Two Down, Three to go! 
It has been two years since I was diagnosed with breast cancer and so I have hit another significant milestone.  I have completed my annual checks and have been given the thumbs up.  All is clear and I can continue on with my life.  For another year at least.  From a physical perspective this consisted of a routine ultrasound followed up with a consultation with my Surgical Oncologist.  But emotionally it is sharp reminder of all that I have faced, overcome and learnt.  As the time has passed so has the intensity.   For a while, all I did was live and breathe cancer, but as my hair returns to normal, I have settled into a different groove.  Along the way I have picked up a few lessons, post cancer, that I would like to share with you.  Here are my my top 10 tips. Life after the Big C. Take of them what you will:
Ask for and Accept Help.
There are times in our life when we need to ask for and accept help for our survival.   Someone to hear your fears, or cook you dinner.  When we are down we need human connection and acceptance to validate how we feel and then move on.
Give Back
It will surprise you who is there for you and how humbling that a complete stranger will come to your aid.  I feel that I could never repay some of the generosity we received but where I can I donate my time, money and support.
Get your Affairs in Order
This will make me sound like a commercial, but how many of you have seriously thought about life and / or disability insurance or income protection? When I researched income protection and life insurance, I decided that I didn't need it as at the time I was on maternity leave and had no income.  Six months later I was diagnosed and in amongst the surgery and chemo I applied again.  This time I was rejected.  I am no longer insurable.  I can only reapply after I have hit 5 years cancer clear.  Only then I will only have a limited selection of institutions to choose from and all of which will have very high premiums.  Money was tight as I went through chemo so I had to keep working.  It was hell; I would bounce between my desk and the toilet regularly during my work day.  If only I had opted for the insurance my recovery would have been much easier.
Use your Intuition
This is a big one.  Trust your gut.  If it doesn't feel right it is OK to change your mind and find another path.  Over the last 2 years I have met many medical experts and I had no qualms looking for a new opinion when I didn't feel comfortable.  You have to connect with the people around you and often there is no science as to why we chose the things we do.  We did the same when looking for a school for our oldest.  There was nothing wrong with the local school as such it just didn't feel right and I am so please we listened to that voice.  I don't think our intelligent, sensitive little man would be flourishing quite as well anywhere else.
Be Patient
I went into 2017 all guns blazing expecting to be able to catch up and nail some goals.  Instead my time got hijacked with fatigue and at times I still found it impossible to get anything done at all.  We also had a few other matters which created a diversion.  It takes time to get your life back in order.  You can never really catch up, just adjust.
Stop Comparing
How many times do we fall for comparing ourselves to others only to feel completely inadequate and demotivated by our own path?  Everyone is on a different journey with different lessons and different outcomes so why do we think we could be on the same road as another person. By comparing your achievements to another is literally comparing apples and oranges.  Your life is your life, and yours alone.  Strive to do better than before and aim for your personal best.
Be Grateful
My situation could have been so much worse and for that I am truly grateful.  During the ups and downs of life it is so important to find gratitude.  Every day as a family we say 2 things that made us happy for the day.  I believe this adjusts our mind to ensure we focus on the positive.  Plus it usually gives us a few interesting topics of conversation over dinner.
Be Healthy
Sleep well, eat well, exercise you know the drill.  You are given one body and mind so look after them.
Mindset is EVERYTHING
In my view you cannot overcome anything a little tricky without the right mindset.  I know people who have faced some tough battles but several years on, it is their mind that continues to suffer.  For whatever reason they cannot move on or let go.    Get the right people around you that can help you shift how you think about these blockages, professional, friends or family, whatever works.  But be prepared to be open about yourself, get insightful, take responsibility for your part, and do the hard work to change.  It is really important to be kind to yourself during this process of healing.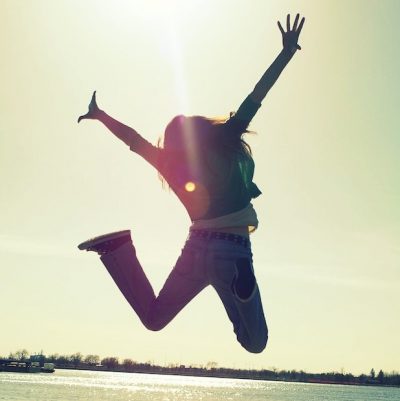 Celebrate wins.
This year I set out with a vision for what I wanted to achieve but ended up diverted and accomplished something else entirely.  Despite trying to mentally reconciling this, I still took time at the end of the year to take stock and be thankful for what I had achieved.  I often fall into the trap of berating myself for not being further ahead or goals have remained untouched.  But sometimes the best wins are the unexpected ones so celebrate those instead.
And of course, check your bits.  Go in for a regular MOT / rego, after all early detection could save your life.  I would love to hear your thoughts on these, so comment below and let me know what you think!
Remember be kind to yourself, you are amazing!
P.S: Get 20% off your first order when you sign up, so go on treat yourself or someone special.